September 14, 2017
EDAWN's Arts & Business Awards
Bergdahl Associates, Inc.
The programs that Bergdahl supports are meaningful for thousands of people.  In 2017, they made possible a free July 4th concert in Wingfield Park for the second year.  It was attended by over 3,000 people, who were introduced and enjoyed the music of the Reno Philharmonic Orchestra and Chorus.
They also assisted in the sponsorship of "Beethoven Lives upstairs", another free performance at Wingfield Park where hundreds of children heard the orchestra and the music of Beethoven for the first time.  They support our "Spirit of the Season" Christmas performance that draws over 5,000 people each year, in that case their sponsorship provides tickets for the students in our after-school violin programs.  They also support the performances of our Youth Orchestras each year.
There are many examples, but to round out the picture of their giving, Bergdahl supports our after-school violin program.  This allows hundreds of underserved young people to learn the violin, beginning a lifetime of education in the arts.
Other arts organizations that they support include eNVision Performing Arts, Reno Youth Jazz Orchestra, Jessica Ann Faber Foundation, Artown and KUNR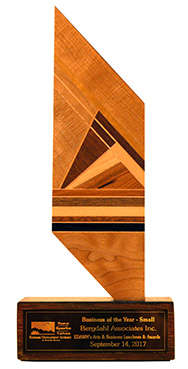 IMAGERY OF THE EDAWN AWARDS
The overall form presents a stylized reflection of Northern Nevada. The silhouettes of the mountains are at once literal representations of the landscape and metaphors for the efforts the award seeks to honor.
The rays extending over and beyond the mountain peaks represent both a rising dawn and a projection of goals and growth.
The multilayered base represents the richness of Nevada's natural resources, as well as a metaphor for its fundamentally rich entrepreneurial spirit
The top is blackened by literally burning the wood using an ancient Japanese technique. The burned wood is harder, stronger, and more resistant to change as a result. This is a metaphor for the challenges through which that each reward recipient has already passed... a trial by fire.
Eric Freyer
www.FreyerWoodWorks.com